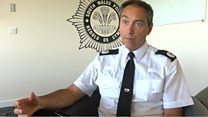 Video
Police chief pledges to crackdown on fraudsters
Police have pledged to crackdown on conmen after a spike in fraud cases in Wales.
In the last three years, fraud relating to online shopping and auctions was among the most common with 4,599 incidents in total, up 7.5%, to 1,635 cases in 2017.
And while Action Fraud has compiled information on 55 different types of fraud, top of its list were unclassified cases.
Dating scams, charity fraud and hacking people's social media accounts have increased dramatically in the last three years, according to official data.
Jon Drake, assistant chief constable South Wales Police, said Welsh forces are dealing with an increase in all types of fraud and that more people were now coming forward to report crimes.
Go to next video: Catching out a romance scammer