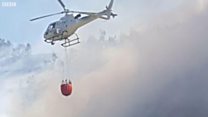 Video
Aberystwyth wild fire: Helicopter drops water on burning grass
A helicopter dropping water on a large wild fire in Ceredigion has been described by onlookers as like "trying to put out a bonfire using a teaspoon of water".
Mid and West Wales Fire and Rescue Service officers were sent to the blaze near Cwm Rheidol at about 11:30 BST on Tuesday.
The flames showed no sign of dying down and were worsened by the wind.
The fire broke out amid sweltering temperatures across Wales.
Kimberley Moseley, who lives in Cwm Rheidol, said she had been watching a helicopter drop more water on the fire on Thursday afternoon.
She said: "Its quite frightening, the scale of it. It's taken out the pine and the larch like paper."