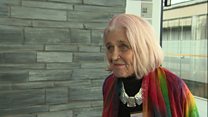 Video
Sky diver Dilys Price on top 100 Welsh women list
Wales' first female MP and a suffragette have made a list of 100 women who influenced Welsh life.
Wales' Women's Equality Network drew up the list to mark the centenary of some women getting the vote.
The list marks the achievements of 50 living women and remembered 50 women who have died.
It includes Megan Lloyd-George, the first Welsh female MP, and Lady Rhondda, otherwise known as Margaret Haig Thomas, who was born in 1883 and was a suffragette and businesswoman.
Retired Cardiff-based teacher Dilys Price, 85, who currently holds a world record as the oldest female sky diver, said she was amazed to be on the list with such people.