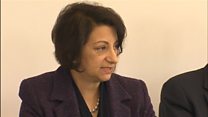 Video
Family accounts of care at Tawel fan 'differ greatly'
The author of a report investigating claims of institutional abuse at a mental health ward at a Denbighshire hospital said family accounts "differed greatly".
Dr Androulla Johnstone from the Health and Care Advisory Service (Hascas) rejected the Ockenden report findings of institutional abuse at the Tawel Fan ward at Glan Clwyd hospital, which was closed in December 2013.
She told a press briefing that some families said Tawel Fan was "an abusive environment where their loved ones were mistreated, neglected and came to harm".
But she said others spoke of "a very good standard with staff showing kindness and compassion throughout their relative's entire episode of care".
Go to next video: 'Circus' outside dying mum's room