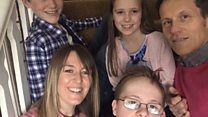 Video
Living with Down's syndrome 'more colourful'
The mother of a boy with Down's syndrome has said life is "a little bit slower" but "more colourful" amongst concerns from campaigners that new tests could lead to a rise in abortions of babies with the condition.
Kate Harris, from Barry, Vale of Glamorgan, has set up a group in south Wales called Team 21 Friends in order to educate parents and medical professionals about what living with the condition is like.
Mrs Harris said living with her son James is "exactly the same" as living with her other two children but is "more colourful" and "sometimes a little bit slower".
Go to next video: Actress Sally Philips talks about her son who has Down's syndrome