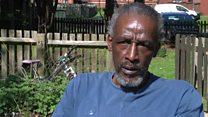 Video
Windrush generation: 'I'm living a stressful life'
There have been clashes in the House of Commons between the prime minister and Jeremy Corbyn over threats made to the children of Commonwealth citizens.
Many of them are from the Caribbean and have been told they are in the country illegally, despite living and working in the UK for decades.
Landing cards used by Commonwealth citizens were used by officials to help subsequent generations prove they had a right to remain in the UK, but were destroyed in 2010.
Whitfield Francis, 59, moved to the UK when he was seven. He spent 12 years of his life living and working in Pembroke Dock, Pembrokeshire, and still has family there.
Most recently he has been "sofa surfing" between there and his sister's house in Birmingham where he hopes to get work.
But he needs to apply for a biometric card first which will mean proving he is entitled to work in the UK.
Go to next video: 'My grandmother would be turning in her grave'