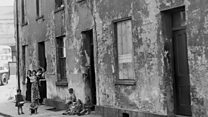 Video
Cardiff Central Square - its transfomation over 80 years
BBC Cymru Wales has taken possession of its new headquarters in Cardiff.
The £100m building at the site of the former bus station is part of Central Square, a development that will include one million sq ft (92,903 sq m) of office, residential and retail space.
Installing broadcast technology will take 18 months and the first staff are likely to move in by the end of 2019.
Central Square has "triggered a major regeneration of the city centre", BBC Cymru Wales' director said.
This video shows how the area has transformed over 80 years from what was once the Temperance Town district, to the old city bus station - to a time lapse showing the latest developments springing up.
Go to next video: BBC Wales HQ in central Cardiff move