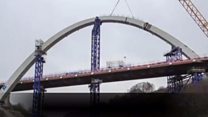 Video
Bridging the gap: Wales' newest landmark
A signature piece of the £800m Heads of the Valleys road upgrade has been installed.
The Gateway Bridge towers 50 metres above the Welsh landscape and is Wales' newest landmark.
The 1,000-tonne, 94-metre arch over the A465 near Brynmawr started to be installed in December and construction has now completed,
The bridge also crosses the Clydach Gorge, which is considered one of south Wales' most important environmental and ecologically sensitive areas.
The 20-year Heads of the Valleys project is due to finish in 2019 to make the busy route between Abergavenny and Swansea a dual carriageway.
Go to next video: Clydach Gorge project fly-through