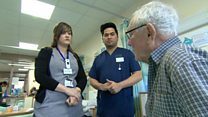 Video
Royal Gwent Hospital patients home 'safe and sound' and on time
The latest waiting times showing how well hospitals in Wales are coping with winter pressures have been published.
They show the busiest January on record for accident and emergency units.
Hospitals are looking at different ways of improving the flow of patients and freeing up more beds for those that really need them.
Eleven discharge coordinators now work across the wards at the Royal Gwent Hospital to plan each patient's discharge, helping them with getting any social care or support they will need when they get home.
In a year, the initiative has seen a reduction in the length of stays on wards in Newport by elderly patients from an average of 13 days to 8.5 days.
The hospital's A&E unit saw 200 more patients through the doors in January compared to the same month in 2017, although performance improved slightly.
We talked to Diane Murray, manager for medicine, Luci Wassall, one of the discharge coordinators, and patient John Brann in January about how it works.
Mr Brann first arrived in hospital at accident and emergency and then was discharged from the Royal Gwent after six days - two days after we spoke to him.
Go to next video: 'Hanging on' in hospital for home care