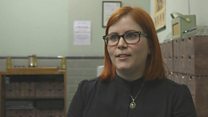 Video
'Under 18s not adult enough for genital piercings'
Under 18s are not adult enough for genital piercings, a practitioner welcoming a ban in Wales has said.
It is now an offence to pierce or arrange to pierce the tongue, genitals and nipples of those under 18.
It follows concerns they can cause medical complications as well as worries over child protection issues.
Wales' chief medical officer said the move would better protect young people.
Jessica Anne Nicholas, who works at a tattoo and piercing parlour in Cardiff, said although she did not think of tongue piercings as intimate, she supported the ban.
Go to next video: 'No regret' over tattoos and piercing