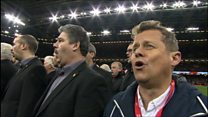 Video
Mike Bushell learns power of song at Wales rugby match
BBC Sport breakfast presenter Mike Bushell recently spent a day with a Welsh male voice choir to look at the impact of singing in sport.
He joined Meibion Morlais choir which was performing with others from across Wales at the Principality Stadium ahead of Wales' autumn international against New Zealand.
"Singing has come a long way in sport," he said, adding it was first given a voice in the modern era as an answer to the New Zealand haka.
Welsh Rugby Union director of music, Dr Haydn James said Welsh people's ability "to just sing spontaneously" goes back to the chapels.
Go to next video: The choir that can never sing together