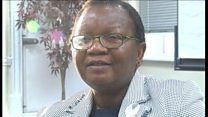 Video
CHC board 'not overly concerned' by consultation
Ministers have been consulting on replacing Wales' seven community health councils - independent bodies representing the interests of patients - with one organisation.
Mutale Merrill, chairwoman of the Board of Community Health Councils, said she was "not overly concerned" the Welsh Government White Paper spoke about "replacing" CHCs.
She said she was confident a suitable new arrangement would be found, adding: "We all have a role to play."
Staff working for CHCs have told BBC Wales they had been told by senior colleagues not to criticise or embarrass the Welsh Government over plans to scrap them.
But Ms Merrill has said this was not true.