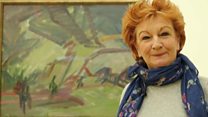 Video
Homeless people curate Who Decides? exhibition in Cardiff
Mareth was a primary school teacher for over 30 years before she became homeless.
She was helped by The Wallich charity, and it is the charity's partnership with National Museum Cardiff that led to her helping to curate a new exhibition.
Along with other people who had experienced homelessness, Mareth was allowed to search through the Derek Williams Collection of art.
She chose a painting by Frank Auerbach to hang in the gallery. Visitors will also see sculptures, film and photography when they explore the 'Who Decides?' exhibition.
Go to next video: From sleeping on a park bench to her first art exhibition