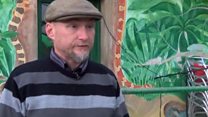 Video
Shooting lynx has 'broken' Borth Wild Animal Kingdom owner
The shooting of a lynx has "broken emotionally and physically" the owner of the zoo it escaped from.
Lilleth, the Eurasian lynx, had escaped from Borth Wild Animal Kingdom but Ceredigion council said on Friday that she had been "humanely destroyed".
The council said despite "exhaustive efforts" to recapture her, it received advice that the risk to public safety had "increased to severe".
The zoo's co-owner Dean Tweedy has condemned the killing, saying he wanted to see her darted instead.
Ceredigion council said it would carry out an inspection of the zoo, which has been closed since Lilleth's escape, later this month.
Go to next video: Lynx missing for up to five days