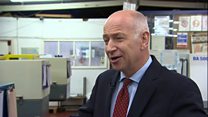 Video
CBI Wales chief criticises 'dog's dinner' future generations law
CBI Wales has criticised the future generations commissioner as being too negative and has urged a re-think of the law.
The Future Generations Act, which also created Sophie Howe's job, requires ministers to take into account the economic, social, environmental and cultural impact of any policy decision.
She has been critical of the planned M4 relief road and also said she had still to be convinced city region projects like a new £38m semi-conductor plant in Newport had "genuinely involved people".
But Mike Plaut, chairman of CBI Wales, said Ms Howe needed to be more positive and a "cheerleader" for business.
He told BBC Wales business correspondent Brian Meechan the act was a "dog's dinner" and needed to be looked at again.
Ms Howe said the Welsh Government had been "bold" in introducing a ground-breaking act but that any new approach would be challenged by those "who are used to operating within the status quo."
Go to next video: 'Prosperity more than economic growth'