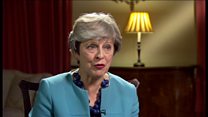 Video
Theresa May: 'Complexities' with Swansea tidal lagoon plan
The prime minister has been urged to approve the Swansea Bay Tidal Lagoon plan by senior Welsh Conservatives.
Theresa May admitted there were "complexities" with the £1.3bn scheme and that the UK government had to look at "issues" before committing taxpayers money.
UK ministers are yet to approve the project and the Welsh Government has accused ministers in London of preparing to "cancel" the scheme.
Mrs May said: "This is a really interesting technology but of course there are issues.
"As we look at these issues we do need to make sure we're being fair to taxpayers and looking at all the issues around this."