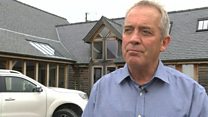 Video
'I'm flabbergasted how he got in my car'
A holidaymaker said he was "shocked" after finding a stowaway in the back of his car after a trip to France.
Paul Edmunds found the Ethiopian man in the back of his Nissan pickup after arriving back in mid Wales from a break in France earlier this month.
Mr Edmunds had just arrived at his home in Caersws, Powys, and was unpacking when he saw the man's trainers poking out from the luggage.
He thinks the man entered his vehicle at a shopping complex in the French port of Calais or while waiting for the EuroTunnel.
"We are flabbergasted as to how he got into the vehicle," said Mr Edmunds.
The man was arrested by police on suspicion of entering the UK illegally.