Media player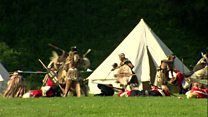 Media playback is unsupported on your device
Video
Battle of Isandlwana re-enacted by Zulus at Cardiff Castle
About 80 Zulus have been in Cardiff to take part in a re-enactment of the Battle of Isandlwana.
The Anglo-Zulu War took place in 1879, provoked by the British invasion of Zululand as part of a plan to create a confederated state in southern Africa.
The British forces were caught unprepared at Isandlwana where the Zulus won a famous victory.
But later the British won at Rorke's Drift on the Natal border with Zululand and ended the independent Zulu nation.