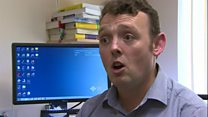 Video
'Round and round' for cancer diagnosis when symptoms vague
Three hundred more patients might survive cancer a year in Wales if services performed to the European average, a leading specialist has said.
That could be an estimated 600 lives saved if Wales ranked with the best.
Tom Crosby, medical director of the Wales Cancer Network, said there needed to be "a relentless drive to diagnose cancers earlier".
He wants the way services are delivered to be transformed or he fears they could "break" and "fall over".
A pilot has already started in the Cwm Taf and Abertawe Bro Morgannwg areas to provide diagnostic clinics for those patients with vague symptoms who might not otherwise be fast-tracked as being serious cases.
Dr Cliff Jones, a GP, said when symptoms are not clear cut, it can mean going "round and round" in trying to get specialist diagnosis.
Go to next video: 'One-stop shop' for cancer tests