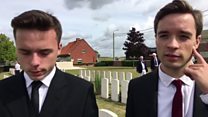 Video
Hedd Wyn's nephews attend Passchendaele memorial service
A ceremony has been held to remember Welsh poet Hedd Wyn and Irish poet Francis Ledwidge who were killed in the Battle of Passchendaele 100 years ago.
It was one of the bloodiest events of World War One - with 4,000 Welsh soldiers killed or injured on the first day, 31 July 1917.
The 38th (Welsh) Division played a central role in the battle, capturing key positions on the ridge at Pilckem.
The ceremony, at Artillery Wood Cemetery in Langemark, Belgium, was attended by Hedd Wyn's great-great nephews - George and Alfie Cairns, who live in Kent.
Go to next video: Passchendaele 100: 'He kept on fighting'