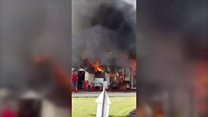 Video
Fire breaks out at Tir Prince Fun Park, Kinmel Bay
A fire broke out at a Conwy fairground on Sunday morning.
North Wales Fire and Rescue Service was called to Tir Prince Fun Park in Kinmel Bay just before 10:40 BST.
The blaze was contained to a portable building and two crews were needed to tackle it. There were no injuries.
Eyewitness Spencer Crossley, who captured the blaze on his mobile phone, said: "There was about half a dozen people trying to put it out with water but it was too much for them, it got a little bit out of control.
"As it got more out of control, they started to close the concession stalls, then they closed the gates."
The fairground remains open.