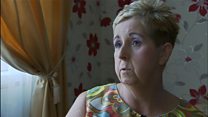 Video
Rheumatoid arthritis sufferer says support 'patchy'
A rheumatoid arthritis sufferer has said support is "patchy" for people in Wales.
Nearly half a million people live with the illness in Wales, but some sufferers claim other conditions are given priority.
In May 2016, more than 3,000 people were referred to a specialist by their GP - compared with 1,810 referred in May 2012.
But on average, 28% of patients in Wales will get to see a specialist within three weeks, compared with 38% in the rest of the UK, figures showed.
A Welsh Government spokesperson said health boards were responsible for meeting the needs of their population.
Yvonne Spencer, 54, from Haverfordwest in Pembrokeshire, was diagnosed with rheumatoid arthritis five years ago.