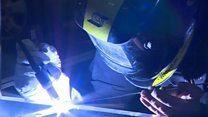 Video
Tredegar firm says best Brexit deal priority
The boss of a Tredegar engineering firm says the UK needs to go into Brexit talks from the strongest position.
Mike Garland, director of M&J Europe, voted for Brexit but says the general election has created uncertainty.
He wants the political position sorted out before the UK government goes into negotiations to pull out of the European Union.
It comes as CBI Wales said the prime minister did not have a mandate for a hard Brexit.
It wants remaining in the customs union and access to the single market at the centre of negotiations.
The UK government said talking about a hard Brexit was not useful and we should be focusing on getting the best deal from Brexit for the whole of the United Kingdom.
Go to next video: Hard Brexit 'difficult for business'