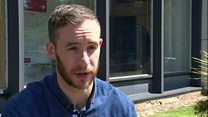 Video
'Luck of the draw' on school buildings - NUT Wales
A significant number of Welsh schools will still need replacing or majorly refurbishing by 2019, the Auditor General for Wales has said.
Huw Vaughan-Thomas's report said the Welsh Government's 21st Century Schools programme was a step forward from patching-up buildings.
But he added some of the new buildings were not meeting standards.
Education Secretary Kirsty Williams said thousands of pupils had benefited from the programme.
NUT Wales policy officer Owen Hathway said a significant amount was being invested by 21st Century Schools but ultimately it was not enough and was below the £4bn earlier identified by councils as being needed.
"Ultimately, it falls short and it falls short at a time when school finding is stretched to breaking point," he said.
Go to next video: 'It's not pleasant for our students'