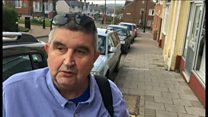 Video
Hopes £330m deal will boost ex-mining village of Oakdale
People in a former Caerphilly county mining community are hopeful a £330m defence contract will help reinvigorate the area.
General Dynamics in Oakdale will create the next-generation communications system for the Ministry of Defence.
The move will bring 125 jobs to the site to work in a sector that already employs 5,000 people in Wales.
Since collieries closed, the area has struggled to attract large employers, according to Ken Powe, 65, a retired HGV driver, who called it "fantastic" news.
Carer Paul manning, 59, called it a "good help that the village needs".
David Morgan, 61, a retired teacher, said during Brexit, "companies will be flying away from us", so welcomed the investment.
However, he added it was important local people secured many of the jobs.