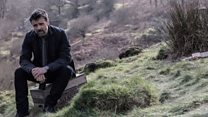 Video
Hinterland: How Welsh countryside is key in the drama
The isolated settings in mid Wales of TV drama Hinterland have been partly credited with the detective noir's success.
Bought by TV stations in scores of countries including Canada, Scandinavian nations and Australia as well as by Netflix, Hinterland has become a poster-child for EU funding with grants covering 15% of the cost of making it.
Richard Harrington, who plays DCI Tom Mathias, said: "It fits really well here and there are faces here you can't replicate anywhere else because of the weather systems."
But as the third series is screened actress Mali Harries, who plays DI Mared Rhys, explores just what it is about the mid Wales countryside which has helped Hinterland appeal to 100 countries.
Hinterland will be shown on BBC One Wales tonight at 21:00 BST
Go to next video: Hinterland: Explore the drama sets