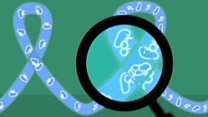 Video
Cardiff Uni's new way of making compounds for drugs
Researchers in Cardiff have developed a new "highly-efficient" method of making disease-fighting compounds, including for a leading anti-malaria drug.
Sesquiterpenes can be found in spicy foods, plants and beer, and are used to battle colds, cancer and malaria.
A Cardiff University team said it could synthesize them more quickly and cost-effectively than before.
Prof Rudolf Allemann said it was "a major new development" in synthetic chemistry.
The method has allowed the team to almost double the usual production yield of a compound which is used to make artemisinin - the anti-malaria drug for which the Nobel Prize in Medicine was awarded in 2015 -which is not widely available in some parts of the world.