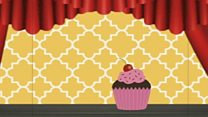 Video
ONS numbers crunched in Wales for cake and biscuit spend
Families in Wales spend less on cigarettes and alcohol than anywhere outside London, according to new figures.
But we spend more on cakes and biscuits than fresh fruit - and the gap is wider than the UK average.
The Family Spending Survey from the Office for National Statistics shows spending patterns.
In Wales, households pay the lowest amount on rent per week on average, out of the nations and regions - £28.40 compared to a UK average of £48.30.
We spend £53.20 a week on food and non-alcoholic drink, but the £10.70 we spend on alcohol, tobacco and drugs is the lowest per household of anywhere outside London.
Families in Wales are also the lowest spenders in the UK on restaurants, take-aways and hotels - £33 per week in Wales compared to a UK average of £43.10
We are also comparative low spenders on fuel and power - £59.50.
Crunching down the figures shows a £2 spend a week on chocolate, while households spend £3.40 a week on cakes, buns and biscuits compared to £3.10 on fresh fruit.
Video: Michael Burgess