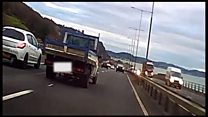 Video
North Wales Police seek dashcam footage of bad driving
About 60 cases of dangerous and bad driving caught on people's dashboard cameras and mobile phones have been dealt with by North Wales Police since a clampdown began four months ago.
It said other forces in the UK, Australia and Hong Kong have been in touch about Operation Snap, which it set up in October.
The action encourages drivers to upload evidence to the police website.
A total of 58 offences have so far been processed with people facing action.
Culprits are offered driver awareness training or given fines and possible court action.
Sgt John Roberts said a case of dangerous driving was under way, as well as other incidents including driving without due care and attention, jumping red lights, road rage and tail-gating.
The force is calling for more people to get in touch if they film any bad driving.
Video shows footage shared by the public with North Wales Police