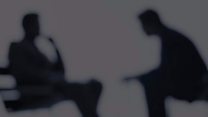 Video
Swansea widower shares experience of being lonely
Colleagues and family members of the murdered Labour MP Jo Cox have launched a campaign to tackle loneliness.
Mrs Cox had started work on the cross-party campaign before she was killed in her constituency last year.
The commission, in her memory, will work with 13 charities including Age UK and Action for Children to come up with ideas for change.
They will provide findings as part of monthly campaigns on people such as new mums, carers and the elderly.
Former metal worker Nicola Caliolo, 88, from Swansea, is someone who suffers from loneliness.
He spoke to Gilbert John of BBC Radio Wales' Good Morning Wales programme.