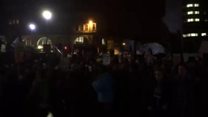 Video
Anti-Trump protests staged across Wales
Protests have been taking place across Wales after US President Donald halted the its refugee programme for 120 days.
On Friday, Mr Trump signed an executive order indefinitely banning all Syrian refugees and suspending the entry of all nationals from seven Muslim-majority countries.
The ban applies to nationals from Iran, Iraq, Libya, Somalia, Sudan, Syria and Yemen.
Demonstrations were being held across Wales on Monday, including in Cardiff, Swansea, Aberystwyth and Bangor, in response to the move.
Around 200 people gathered in Swansea to march from Castle Square through the city centre.
They chanted: "Say it loud, say it clear, refugees are welcome here".