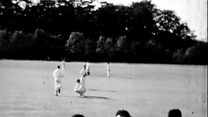 Video
Inspirational Llandovery College film found in attic
A filmmaker who worked on blockbusters such as The Italian Job and Superman has found the film which inspired him back in the 1950s.
David Wynn-Jones was a schoolboy at Llandovery College in Carmarthenshire when he saw a film made by the older pupils.
It depicts day to day life at the school and games of rugby and cricket.
Mr Wynn-Jones, who now lives in Surrey and has worked in the film industry for many years, said he never forgot it.
The film was found in the attic of the man who made it, Hugh Jones, from Gower, Swansea and has been restored into digital form.
Mr Wynn-Jones is now hoping it will encourage other former Llandovery pupils to contribute to a digital archive of the college.