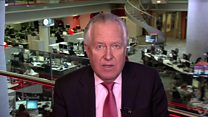 Video
Brexit: Peter Hain 'cannot vote for article 50'
Labour peer Lord Hain said he could not "in good conscience" vote to trigger Article 50 as it would damage Welsh jobs.
The former minister for Europe said he acknowledged the referendum result, but called Theresa May's plan "right wing".
Labour leader Jeremy Corbyn said all his MPs would be told to approve the triggering of Article 50 - the process by which the UK leaves the EU.
Mrs May has promised to push for the "freest possible trade" with European countries and warned the EU that to try to "punish" the UK would be "an act of calamitous self-harm".
Go to next video: Why Labour MP will vote against Article 50