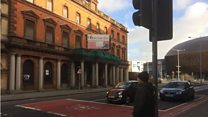 Video
Mount Stuart Square needs 'catalytic' museum or gallery
Cardiff Bay's Mount Stuart Square needs a "catalytic" museum or gallery such as The Tate in Liverpool to kick off regeneration, an architecture expert has said.
Cardiff University's Dr Juliet Davis thinks many of the neglected, underused or boarded up buildings could accommodate a variety of uses - such as shops, offices, the creative industries and homes.
She said the wider the variety, the more "liveliness" it creates and the more potential it gives to regenerating others.
The central Coal Exchange is currently being redeveloped into a hotel. But Dr Davis believes many of the other listed buildings are also in urgent need of work.
Go to next video: Building disasters blight Sicilian town