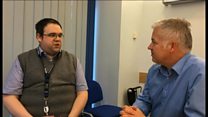 Video
Patients urged to look out for 'killer' sepsis signs
People have been warned to look out for the warning signs of potentially deadly infections as hospitals continue to experience high demand.
An estimated 1,800 people in Wales a year die from sepsis which can lead to shock and rapid organ failure following an infection.
Early symptoms can be mistaken for influenza or other infections.
But GPs have warned patients with coughs and colds to stay away from surgeries - with cases at a seasonal high.
There are concerns it could lead to people with potentially deadly sepsis staying away.
Dr Tom Connor, who works with Public Health Wales, explained why it was so important people knew what how to spot the warning signs.
Go to next video: 'I'm frightened - I don't feel well'