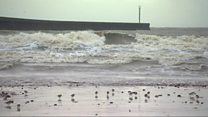 Video
Wildlife Trust wants eight-year pause between tidal lagoons
Plans for a £1.3bn tidal lagoon in Swansea Bay have been backed by a government-commissioned review.
Charles Hendry's independent report into the technology's viability said it would make a "strong contribution" to the UK's energy supply.
But there are some doubts from conservation groups.
Sarah Kessell, chief executive of the Wildlife Trust of South and West Wales welcomed the recommendation of a pause between the pathfinder lagoon in Swansea and larger lagoons starting.
But she said it needs to be at least eight years, so the impact on fish and habitats can be evaluated.
Go to next video: 'Watershed' for £1.3bn lagoon project