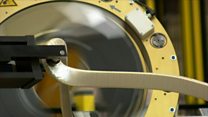 Video
Tidal lagoon: GE project to make Swansea Bay turbines
Plans for a £1.3bn tidal lagoon in Swansea Bay have been backed by a government-commissioned review.
Charles Hendry's independent report into the technology's viability said it would make a "strong contribution" to the UK's energy supply.
He said it was cost effective and would bring "significant economic opportunity".
Developer Tidal Lagoon Power has launched a tender for the design and construction of a new £22m turbine manufacturing plant in Swansea docks.
GE and Andritz Hydro, based in Rugby, Warwickshire, would assemble the turbines there.
John Wheeler, GE's project manager for the Swansea Bay tidal lagoon, explains how the whole supply chain could benefit from the £1.3bn investment.