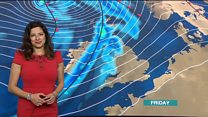 Video
Storm Barbara weather warning for Wales
Wales has been battling pre-Christmas disruptions as winds of up to 75mph from Storm Barbara swept in on Friday.
The Met Office issued a yellow 'be aware' warning for wind across Wales until midnight.
Gusts hit 75mph at Mona on Anglesey.
Parts of a school roof were ripped off at Rhosgadfan near Caernarfon, Gwynedd, while several hundred properties across Wales have experienced power cuts during the day.
There are also speed restrictions on two bridges and some ferry and train services are affected.
Friday is expected to be the busiest day of the festive season on UK roads as the Christmas getaway combines with the end of the working week.
BBC Wales' weather report Benhaz Akhgar said things should improve later on Friday as winds ease into Christmas Eve.