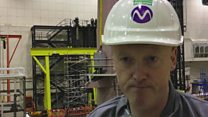 Video
Wylfa one year on: 'A good change' for workers
A year after a north Wales nuclear power station switched off its reactors, workers at the site are slowly adapting to the new challenge of removing used fuel.
About 74,000 spent radioactive fuel cells remain at Wylfa on Anglesey.
Every one of them will be taken to Sellafield in Cumbria for reprocessing.
The change in focus has proved a personal and technical challenge for the workforce, which has been cut by about 200 posts in the past year.
But senior production technician Gareth Jackson told BBC Wales' George Herd the de-fuelling process had offered him some job security.
Go to next video: End of Wylfa's nuclear era