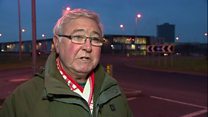 Video
Port Talbot steelworkers 'railroaded' over Tata deal
Some workers feel railroaded over a deal which could secure the future of Tata's Port Talbot steelworks for the next five years, a councillor has claimed.
Staff at Port Talbot have expressed concerns over the agreement between the company and unions to accept a less generous pension in return for future investment on site.
Unions will not make a recommendation to their members on whether to accept or reject the proposal.
Tata is consulting staff on moving to the new scheme, calling it essential.
Aberavon councillor and former steelworker Tony Taylor said more information was needed on the implications of the proposed deal before it was accepted.
Go to next video: Steel workers 'worried for the future'