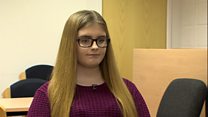 Video
'I'm like a puppet to mental health - I hear voices'
A young mental health patient has spoken of her experiences in youth services after a charity expressed concerns over delays in patients getting a first appointment.
More than 1,000 young people out of 18,000 referred to Child and Adolescent Mental Health Services (CAMHS) in 2016 waited more than six months for a first appointment.
People referred for assessment by CAMHS should be seen within 28 days.
NSPCC Cymru said it was a worrying picture.
Abi Larcombe, 17, who was seen after she tried to take her own life, has suffered with mental health issues since she was about 11.
Go to next video: New mental health strategy announced