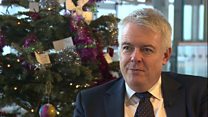 Video
Brexit: UK government needs to stop 'shouting at foreigners'
First Minister Carwyn Jones has accused new UK government ministers of being naïve over future relationships with the European Union.
The Welsh Labour leader told the BBC's Sunday Politics Wales show that Whitehall had to "re-learn the art of diplomacy" rather than "shouting at foreigners" to secure trade deals after Brexit.
Welsh voters said they wanted the UK to leave the EU in June's referendum.
The UK Government said it will get the "best possible deal for the whole of the United Kingdom as we leave the EU".
"The UK needs to re-learn the art of diplomacy rather than shouting at foreigners, which is the impression you get from some of the Tory politicians," said Mr Jones.
Arwyn Jones reports