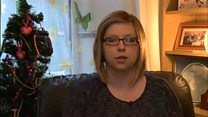 Video
Concerns over arthritis treatment for children in Wales
Arthritis societies have raised concerns over services for patients in Wales.
The number of people referred to rheumatology departments in Wales has risen by 66% since 2012, and the societies claim treatment is not keeping up with demand.
The British Society for Rheumatology, the National Rheumatoid Arthritis Society and Arthritis Care are calling for a paediatric rheumatology service to be set up in Wales.
Kelly O'Keeffe, 25, who was diagnosed with arthritis when she was seven, said she was referred to Alder Hey Children's Hospital in Liverpool because of a lack of specialists at Ysbyty Gwynedd, in Bangor.
The Welsh Government said health boards were responsible for meeting the needs of people in their areas suffering from conditions like rheumatoid arthritis.