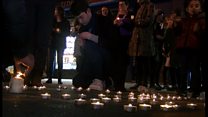 Video
Aberystwyth holds Aleppo candlelit vigil
Around 100 people attended a candlelit vigil in Aberystwyth on Thursday in a show of support for the people of Aleppo.
The northern Syrian city had been in a four-year deadlock as Aleppo was a key battleground in the war between forces loyal to President Bashar al-Assad and rebels who want to overthrow him.
Candles were lit in Aberystwyth and placed to spell out the name of the ancient city and Syrian refugees addressed the crowd. They were the first refugees given sanctuary in Wales.
Eleven arrived in Aberystwyth last December, including 23-year-old Ahmed Alnajjar.
"It's very important to have this vigil, our people in Aleppo and Syria have been living with bombs dropping everyday," he said.