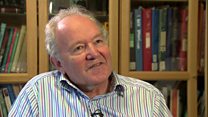 Video
German street renamed to honour Welsh-Jewish woman's family
A street in Germany is being renamed in honour of a family persecuted by the Nazis after a Welsh author brought their story to light.
The story of the Bosse family has been told by Heini Gruffudd in his book Yr Erlid, or The Persecution.
His mother Kate Bosse-Griffiths, who was of Jewish descent, fled to Swansea during the reign of the Third Reich.
The street in Wittenberg will be called Bossestrasse following Friday's ceremony, which will be attended by 19 members of Mr Gruffudd's family.
Mr Gruffudd said there was a "sense of justness" about the renaming - but that the "suffering of that period still continues today."