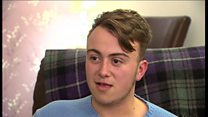 Video
Foster child speaks out after council criticised over his savings
Bridgend council has been criticised by a watchdog for failing to adequately monitor a looked-after child's savings accounts while he was in their care.
Rob Johnson, who was two when he was fostered, said some of his savings were wrongly used to pay for trips.
An investigation by the Public Services Ombudsman for Wales, Nick Bennett, found the council's monitoring amounted to maladministration.
The council said it took its role as corporate parents extremely seriously.
Mr Johnson, now 18, waived his right to anonymity, saying he did not think he was the only one affected: "I just want people to have their money, to go on and do better things."