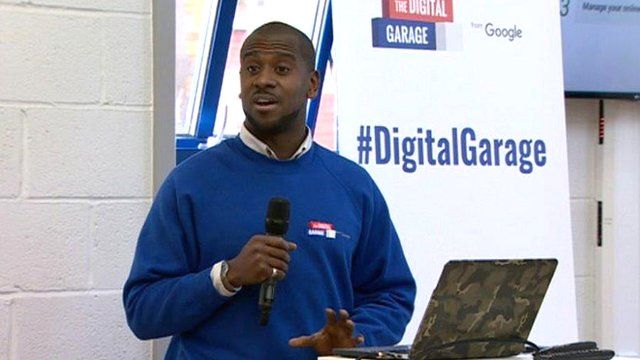 Video
Port Talbot hosts Google 'digital garage' workshops
Google has opened a "digital garage" in Port Talbot to give people the confidence and skills to use the internet more frequently and access more services.
It argues that individuals can save money by doing more online, from accessing price comparison sites to training and searching for jobs.
The Good Things Foundation, which offers digital skills training in parts of Wales, said using the internet saves individuals £744 a year on average.
It also said that the groups who are not online are more likely to be older people, individuals on low incomes and those who are less educated.
With the benefits system being increasingly moved online, there is a fear that people who do not feel digitally confident may lose out.
Google's #DigitalGarages are pop-up places within communities where anyone can get a range of training from the simplest level to companies wanting to improve their online presence.
The first was opened a year ago in Leeds and the one at St Paul's Centre in Port Talbot for the next two days is the first in Wales.
Next week it moves to the Tramshed Tech in Cardiff and stays there until March.
Port Talbot was chosen because of the town's history as an industrial hub and centre for innovation, and also what Google said was "a local appetite to harness opportunities".
Peter Barron, vice president of Google UK, and Caroline Wilson, of digital inclusion charity The Good Things Foundation, told BBC Wales economics correspondent Sarah Dickins it was about supporting harder to reach people as well as businesses.
Go to next video: Apps making school work 'more fun'