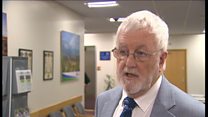 Video
Denbigh hospital site revamp 'funded by homes sale'
The sale of homes planned for the site of a former Victorian asylum in north Wales will help pay for the refurbishment of some of the old buildings, a councillor has said.
Denbighshire council's planning committee approved the proposals for the former North Wales Hospital in Denbigh on Wednesday.
The Prince's Regeneration wants to build a mixture of housing and buildings for business use there.
Denbighshire council won permission for a compulsory purchase of the building but it is understood site owners, Freemont Limited, are considering an appeal.
Councillor David Smith said the sale of the homes would contribute to restoring the main hospital building.