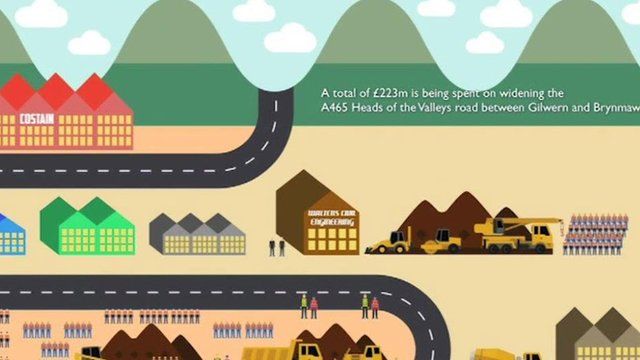 Video
Welsh budget: Follow the money on road-building journey
As we hear the details of the Welsh Government's spending plans for 2017/18, it is worth asking - how important is this actually for the whole of the Welsh economy?
The spending on new roads for example - what difference can it make?
In one example, a total of £223m is being spent on widening the latest section of the A465 Heads of the Valleys road between Gilwern in Monmouthshire and Brynmawr in Blaenau Gwent.
But if you follow the pounds along the supply chain, it can affect local businesses, from smaller engineering firms down to the caterer providing the workers' breakfasts.
Story by Sarah Dickins, BBC Wales economics correspondent; video graphics by Phil John
Go to next video: Budget for 'stability and ambition'