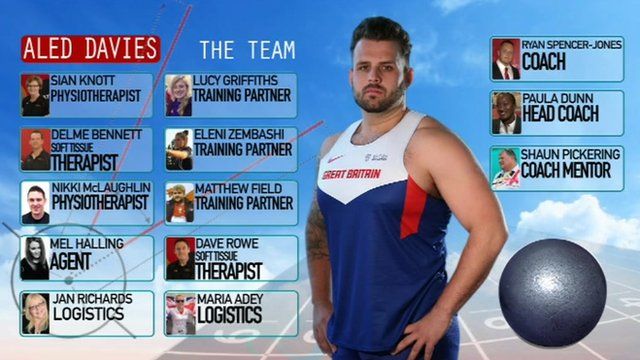 Video
The team behind Paralympic shot-putter Aled Davies
By the time he steps into the throwing circle in Rio, shot-putter Aled Davies will be one man facing one challenge.
But there are 12 core people who help him get to that point.
Davies, 25, has already broken the world record five times this year, and he is ready for it to fall again in his pursuit of gold.
Although the athlete, from Bridgend, won his gold medal in the F42 discus in London, the event will not take place at Rio so he will just be competing in the F42/44 shot put.
He won a bronze at the last games in the shot put, but is hoping for gold this time, and has been working hard with his team to this end.
"I like to keep my team and things simple," said Davies. "If you do the hard work and put in the time, things will fall into place."
But who are the people behind his preparations for Brazil?
Go to next video: 10 things you should know about the Paralympics